El doctor de las celebridades asistió recientemente a Charity Gala, Grant's Crusade Foundation a beneficio de Neurodiverse Children junto a varias personalidades invitadas como: Julián Gil, Valeria Marín, Daniel Sarcos, Alessandra Villegas, Alicia Machado, Christian Estrada, Angela Gómez Duran, Rodrigo De Ovando, Gabriel Coronel, Daniela Ospina, Javier Burrillo Azcárraga y el Consul General de México en Miami Honorable Jonathan Chait Auerbach, entre otros.
El reconocido y distinguido miembro de la comunidad, Dr. Elio Galán se enorgullece de haber participado como sponsor y figura pública invitada en la prestigiosa Gala Benéfica organizada para apoyar a Grant's Crusade Fundation, una destacada organización sin fines de lucro dedicada a ayudar a niños.
La Gala Benéfica, que se llevó a cabo la pasada semana en Miami. Este evento de alto perfil que reúne a destacadas personalidades, líderes de opinión y miembros influyentes de la sociedad en apoyo a una noble causa. Como sponsor de este evento, el Dr. Elio Galán ha demostrado su compromiso inquebrantable con el bienestar de la comunidad y su dedicación a causas filantrópicas.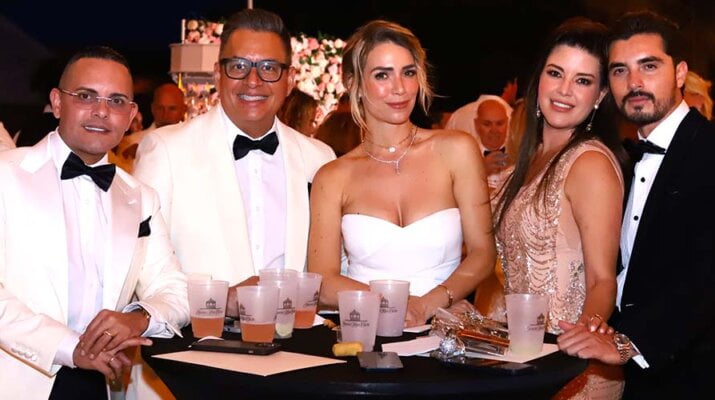 La participación del Dr. Galán como figura pública invitada destaca su compromiso no solo como profesional de la medicina, sino también como un ciudadano responsable y solidario. Su presencia en esta Gala Benéfica fue un testimonio del impacto positivo que puede tener una persona con recursos y reconocimiento al apoyar iniciativas benéficas que benefician a los más necesitados.
La Fundación a beneficio de Neurodiverse Children ha sido reconocida por su labor ejemplar en recaudar fondos para niños. A lo largo de los años, han trabajado incansablemente para mejorar su vida y han logrado resultados significativos. Los fondos recaudados durante la Gala Benéfica se destinarán directamente a apoyar los programas y proyectos de la fundación, garantizando así que continúen su invaluable labor.
El Dr. Elio Galán ha expresado su entusiasmo por formar parte de este evento benéfico y se compromete a hacer todo lo posible para promover la conciencia sobre la importante labor de la Fundación. Su presencia en la Gala Benéfica fue una gran oportunidad para fomentar la participación de otros líderes de la comunidad y para inspirar a otros a contribuir a esta noble causa.
El Dr. Galán desea agradecer a los organizadores de la Gala Benéfica por brindarle la oportunidad de ser parte de este evento significativo y espera que esta velada sea un éxito rotundo. Además, anima a todos los miembros de la comunidad a unirse a él en su apoyo a a Charity Gala, Grant's Crusade Foundation y a hacer una diferencia positiva en la vida de aquellos que más lo necesitan.
Elio Galán arribó a la gala de Grant's Crusade en Miami vestido por sus amigos The Hause of Suits in Miami, en el que compartió con muchas celebridades que fotman parte de su selecta clienta de pacientes.
Extraido de la noticia